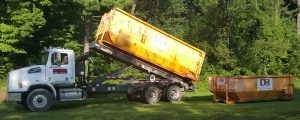 Bassuener Trucking & Excavating can provide dumpsters for all your construction needs for either residential or commercial customers.  Anything from house-clean outs, house tear downs, roofing jobs, remodeling, or general property clean up we have the dumpster you need to get the job done efficiently.  We also can provide labor for complete cleanouts or property cleanups.  All dumpsters have a swing door on the back to making loading easier.
Bassuener Trucking & Excavating has NO hidden fuel surcharges or environmental fees; the price we quote is the price you will be charged; simple and easy transactions.
Decrease your cost on tippage fees by recycling.  We can offer recycling services with specific dumpsters used just for recycling.
Dumpsters are usually delivered with in 24 hours, based upon availability.  You also have the option to have a dumpster delivered by a pre-arranged delivery date.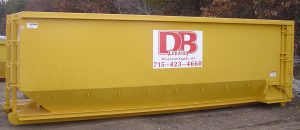 30 yd Containers (22'x8'x6′)
New Construction, commercial cleanup, large shed or small garage demolition, commercial roofing jobs.
Containers 20yd (22'x8'x4.5′)
Roofing deris 20sq and over, window replacement, large garage construction, small siding jobs, deck removal, construction debris, and larger house cleanouts.

14yd Containers (16'x8'x4.5′)
20sq shingles or less, carpet or flooring removal, scrap metal, small remodeling projects, garage or basement cleanouts.
12yd Containers (16'x8'x3′)
15sq shingles or less, small remodeling projects, garage or basement cleanouts.